Monterey Park's motto is "Pride in the past, Faith in the future"
It won't take you long to see that they live up to their motto!
Photo
Source
Be sure in include Friday in your schedual to visit Monterey Park, California because you won't want to miss their weekly Farmer's Market.
Take a peek at this video to see why:
http://www.youtube.com/watch?v=7sDG0lle10U
Excellent history video of Monterey Park makes you feel like you are there. You will love all the stories. Take time to listen you will be glad you did.
Don't miss the 1950s segment as it has some great photographs too.
http://www.youtube.com/watch?v=SPHf_Aei_0c
I am thrilled that someone from Monterey Park bought seven of my recipes! Thank you so much!
They are:
Carrot Cookies Recipe
Lemon Recipe
Sausage & Leek Soup Recipe
GramaBarb's Carrot Pineapple Cake Recipe
AnnaRuth's Carrot Applesauce Cake
Orange Shortbread Recipe
Chocolate Pudding Recipe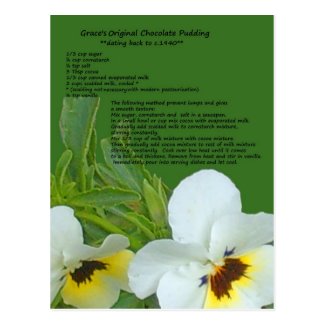 Chocolate Pudding Recipe Postcard
by
gramabarb
Learn about
postcard printing
using Zazzle
All your recipe postcards can be stored in this box which comes in assorted colors.
I bought one and Amazon ships this product internationally