Follow that recipe and you will travel the world. If you follow this blog you will see the city and country where my recipes have traveled to. The recipe we are going to follow to begin our tour is my families favourite throughout the 1970's. Now I am sharing this easy, delicious Lemon Cake Pudding recipe with you on a handy postcard.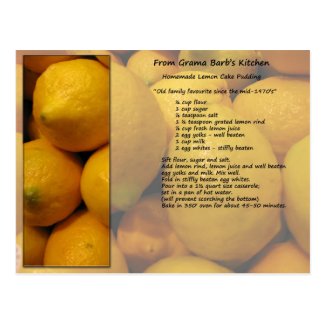 Lemon Recipe Postcard
by
gramabarb
Try
post card printing
using zazzle
The first country this recipe went to was
Tomsk, Russia
. Tomsk is billed as a charming Siberian city on the river Tom. Short tour of Tomsk where you will be amazed by the beautiful detailed carving architecture.
It is one of the oldest towns in Siberia. Tomsk celebrated its 400th anniversary in 2004. Take this short youtube tour:
http://www.youtube.com/watch?v=BpiNnUFFML0
Now the Lemon Recipe takes us to
Vatan, France
. A small community in central France with a population of about 2,000. In 2009 the Tour De France passed through their village - watch the excitement:
http://www.youtube.com/watch?v=goPZkb9Q2c4
The Lemon Recipe has many more destinations to show you please follow and come back to see where it will be next week.